With You Every Step of the Way
Helping Each Other Through Parenthood
Whether you are preparing to welcome your new little one or bringing your newborn home after birth, you learn there are many aspects of parenthood you have questions about. It's very natural to have questions, fears, doubts, and concerns arise. The Parent Network is here to help bring parents together in a safe space to support one another through this new life event.
To view the below flyer, click here: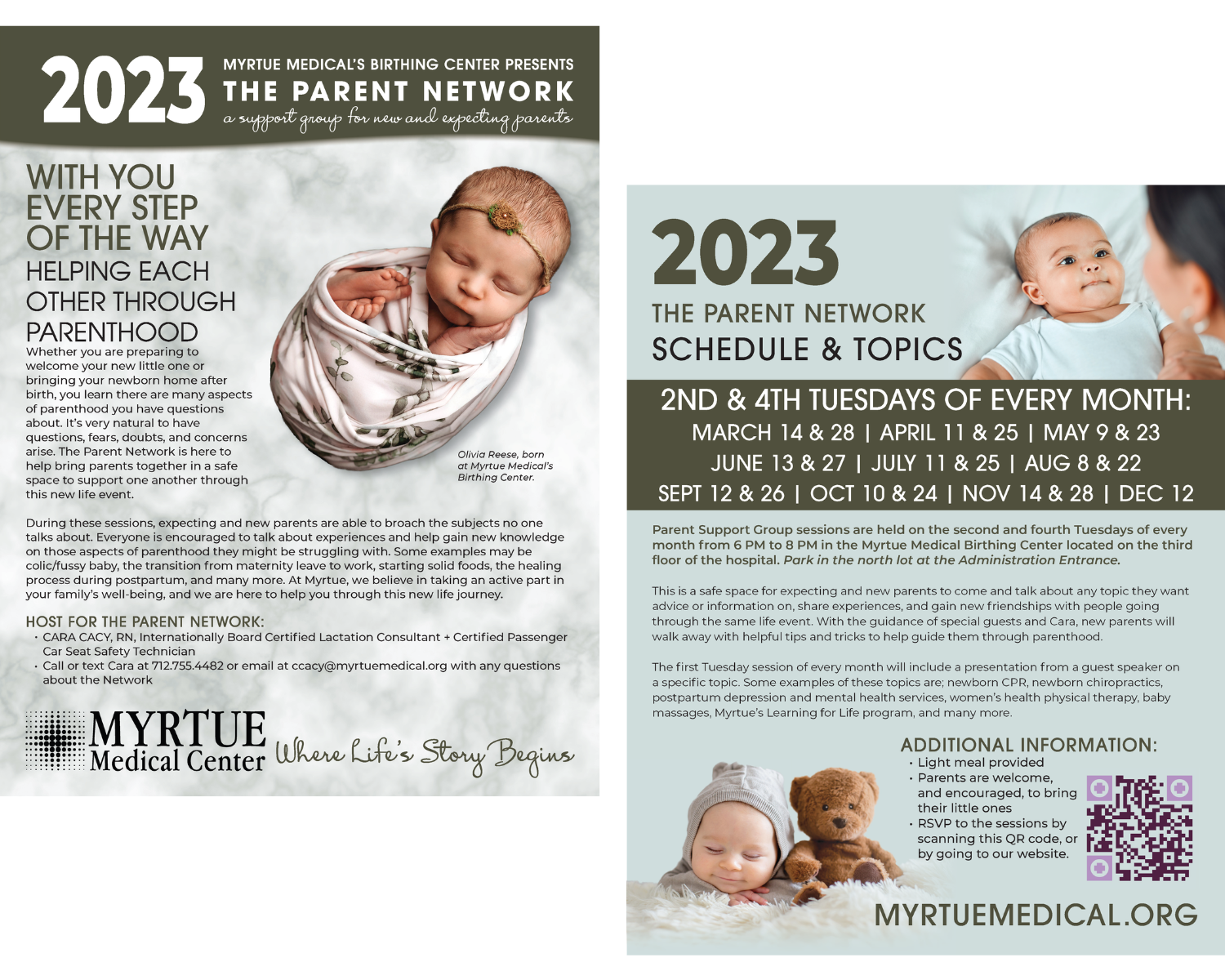 During these sessions, expecting and new parents can broach the subjects no one talks about. Everyone is encouraged to talk about experiences and help gain new knowledge on those aspects of parenthood they might be struggling with. Some examples may be colic/fussy babies, the transition from maternity leave to work, starting solid foods, the healing process during postpartum, and many more. At Myrtue, we believe in taking an active part in your family's well-being, and we are here to help you through this new life journey.
Additional Information
Parent Support Group sessions are held on the second and fourth Tuesdays of every month from 6 PM to 8 PM in the Myrtue Medical Birthing Center located on the third floor of the hospital.
Park in the north lot at the Administration Entrance.
2023 SESSION SCHEDULE: MARCH 14 & 28 | APRIL 11 & 25 | MAY 9 & 23 | JUNE 13 & 27 | JULY 11 & 25 | AUG 8 & 22 | SEPT 12 & 26 | OCT 10 & 24 | NOV 14 & 28 | DEC 12
This is a safe space for expecting and new parents to come and talk about any topic they want advice or information on, share experiences, and gain new friendships with people going through the same life event. With the guidance of special guests and Cara, new parents will walk away with helpful tips and tricks to help guide them through parenthood.
The first Tuesday session of every month will include a presentation from a guest speaker on a specific topic. Some examples of these topics are; newborn CPR, newborn chiropractics, postpartum depression and mental health services, women's health physical therapy, baby massages, Myrtue's Learning for Life program, and many more.
Light meal provided
Parents are welcome, and encouraged, to bring their little ones
RSVPing to a session is not required, but it is welcomed
RSVP to The Parent Network sessions HERE
Host
Cara Cacy, RN, Internationally Board Certified Lactation Consultant + Certified Passenger Car Seat Saftey Technician
Call or text Cara at 712.755.4482 or email at ccacy@myrtuemedical.org with any questions about the Network