There is a lot to learn about pregnancy and labor. Whether you are a first-time parent or are adding a new member to your growing family, we offer birthing classes to all patients. The Fast-track Childbirth Preparation class offers an overview of what to expect during the different stages and phases of labor.
We're With You Every Step of the Way
Planning for a new baby is one of the most exciting experiences you'll ever have. With the arrival of your newborn, your life will change. But even with all the joy that a new baby brings, it's very natural to have fears, doubts, and concerns. Myrtue Medical Center offers Childbirth Preparation Classes to prepare and support you during the entire process of becoming a parent.
During the Childbirth Prep Class, our healthcare professionals will answer your medical questions and practical concerns. Through classroom instruction and practice sessions, the certified childbirth educator will also teach you the latest relaxation, breathing, and pushing techniques. At Myrtue, we believe in taking an active part in your family's well being.
To view the 2023 flyer below please click here.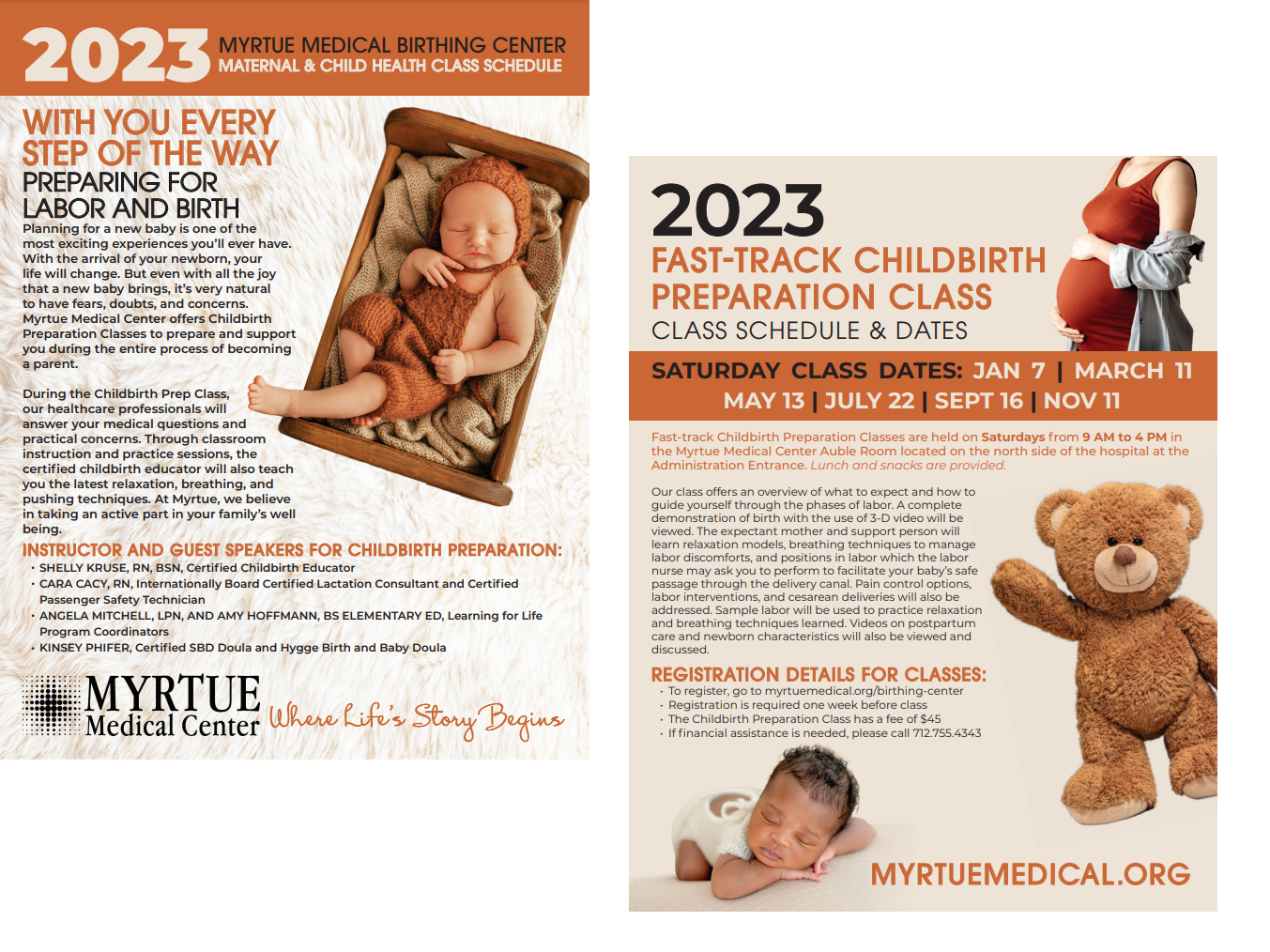 Fast-track Childbirth Preparation Classes
Fast-track Childbirth Preparation Classes are held on Saturdays from 9 AM to 4 PM in the Myrtue Medical Center Auble Room located on the north side of the hospital at the Administration Entrance. Lunch and snacks are provided. The Childbirth Prep Class has a fee of $45. If financial assistance is needed, please call 712.755.4299.
Our class offers an overview of what to expect and how to guide yourself through the phases of labor. A complete demonstration of birth with the use of 3-D video will be viewed. The expectant mother and support person will learn relaxation models, breathing techniques to manage labor discomforts, and positions in labor that the labor nurse may ask you to perform to facilitate your baby's safe passage through the delivery canal. Pain control options, labor interventions, and cesarean deliveries will also be addressed. Sample labor will be used to practice relaxation and breathing techniques learned. Videos on postpartum care and newborn characteristics will also be viewed and discussed.
2022 Class Schedule: JAN 7 | MARCH 11 | MAY 13 | JULY 29 | SEPT 16 | NOV 11
Participants are asked to:
Wear comfortable clothing
Bring two pillows
Make sure to bring the $45 registration payment in either cash or check form
Park in the Administration Entrance parking lot (north side of Myrtue Medical Center)
Instructors for Childbirth Prep Class:
Shelly Kruse, RN, BSN, Certified Childbirth Educator
Cara Cacy, IBCLC, Board Certified Lactation Consultant and Certified Passenger Safety Technician
Angela Mitchell, LPN, and Amy Hoffmann, BS Elementary Ed, Learning for Life Program Coordinators
Kinsey Phifer, Certified SBD Doula and Hygge Birth and Baby Doula
To sign up for an upcoming class, please click here or call our education department at 712.755.4343.
Additional Resource
Paying attention to movements helps expectant parents get to know what's normal for their baby and speak up if they notice a change. Count the Kicks is an organization whose goal is to educate expectant parents about the importance of tracking baby movements during pregnancy. Their website has a multitude of resources parents can benefit from.