Local COVID Test-at-Home Availability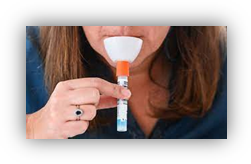 Myrtue Medical Center's Public Health Department is a designated pick-up site for no-cost COVID-19 testing starting July 16th. If you would like to pick up a saliva test kit, please call 712.755.4422 upon your arrival at the Community Health Building at 2712 12th Street in Harlan, IA. A saliva test kit will be brought to your car and instructions reviewed with you to ensure successful specimen collection and subsequent shipping to the State Hygienic Lab (SHL).
Homebound individuals have the option to request a kit to be sent to their home and to have UPS pick up their sample by requesting a test kit through the Test Iowa website.
Results will be sent via email about 24 hours from when the sample is received by SHL.
If your test results are positive, please contact your healthcare provider for clinical management.