What is an Explanation of Benefits?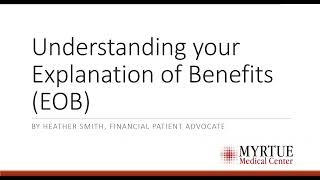 About this Video
Do you know what an Explanation of Benefits, or an EOB, is? If not, that is okay! Many people don't, that is why we created this video to help patients learn more about how to read their own EOB.
Heather Smith, Financial Patient Advocate at Myrtue Medical Center, explains in the video above what an EOB is, the different vocabulary you will see on a typical EOB, and why it is important to thoroughly look over your own EOBs when you receive one.
If you have any additional questions about an EOB you have received from Myrtue Medical Center, you can give us a call at 712.755.5161 and ask to speak to a Financial Patient Advocate.