Women's Heath Night | Wednesday, February 9th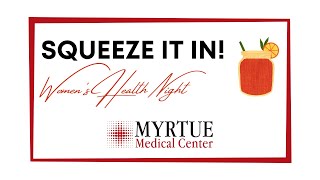 About this Video
"Squeeze it in" is your time to take care of you in a most important way. Early detection, through a mammogram and pelvic exam, and early treatment make it possible for women to be there for all the people who count on them every day.
One in eight women will be diagnosed with breast cancer in her lifetime, and 0.6 percent with cervical cancer. Most potential cervical cancers are found in the pre cancer stages, allowing for early treatment. All women are welcome, regardless of ability to pay, so bring your sister or your soul sister and make the best of taking care of you! Call Cathy Buman, RN at
712.755.4312
to register for this event. Space is limited, so reserve your spot today!